Healthy Cocktail Recipes
Balance Fun with Pure Goodness
The juices in these cocktail recipes are actually good for you. What better way to be the perfect host or hostess?
Drink Recipes
Fruit Punch

1 large papaya – peeled and de-seeded
1 mango – peeled and pitted
4 peaches – washed and pitted
4 oranges – peeled
2 large sweet crisp apples
Cut apples into quarters and remove seeds. Push all ingredients through juicer leaving apples for last (hard fruits help push softer fruits through easier). Chill until ready to serve.
Fill serving glass 3/4 full with juice, 2 ice cubes, shot of rum and top off with soda or mineral water.
---
Refreshingly Pink

2 cups fresh or frozen raspberries
2 grapefruit – peeled
1 crisp sweet apple
2 cups cubed watermelon – rind removed
2 – 4 tbsp honey or vanilla syrup to sweeten
Soda or Mineral Water to top up beverage
Quarter the apple and remove seeds. Juice all ingredients in a juicer leaving the apple for last. Sweeten juice if desired and stir well. Put in sealed container and chill until ready for use.
You can use champagne or highball glasses. Add a little ice and liquor of your choice. Fill glass about 3/4 full with juice. Top up with soda or mineral water to give it some bubbles.
---
Grape Apple Bubbly

7 apples – sweet and crisp
4 cups seedless red grapes – washed and removed from stem
4 tsp honey or vanilla syrup – optional
Quarter apples and remove seeds. Push grapes then apples through a juicer. Add honey or vanilla syrup to juice and mix well.
Place in air tight container and chill until ready to use. Apples oxidize very quickly making the juice turn brown. For best results make this juice before serving.
Fill glass half way with the juice and add a couple of ice cubes and a shot of vodka then top up with soda water. Stir well and serve.
---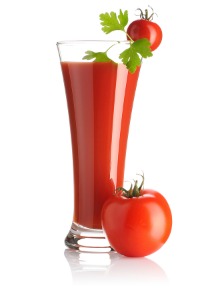 Tomato Cocktail

6 good size tomatoes
1 English cucumber
3 stalk celery
2 large carrots
1 small lime - peeled
1 lemon - to rim cocktail glasses
Salt and Pepper to Taste
Tabasco sauce optional
Juice all ingredients except lemon in a juicer. Cut lemon in quarters and rim the cocktail glasses.
Dip glass in a mixture of salt and pepper or use a readymade cocktail rimmer for convenience.
Add a couple of ice cubes, serving of vodka and top up with tomato cocktail mixture. Add salt, pepper and Tabasco to individual taste.
Garnish with cherry tomatoes or cucumbers or celery sticks.
This cocktail recipe can also be mixed half and half with beer to make the popular bloody lager cocktail.

---
Cool as a Cucumber

2 English or field cucumbers – washed but not peeled
5 sweet crisp apples
Chunk of fresh ginger (like the end of your thumb or 1/2 inch cube size)
Honey to sweeten (optional)
Juice the cucumbers and apples in a juicer. If desired add a little honey and stir well.
Add some ice and vodka into a rock glass and top with juice. Garnish with a thin slice of cucumber.
---
These cocktail recipes can help you be the perfect hostess. These tasty drinks are awesome because they are actually good for you.
What better way is there to balance things out during a night of celebrating?

For other healthy drink recipes try our:
Green Drinks
Vegetable Juices
Kids Smoothies
Breakfast Smoothies
Return from Cocktail Recipes to Juicing Recipes

Return to Healthy Weight Loss Help Home Page