Cucumber Nutrition
More Than Just Water

Cucumber nutrition offers more than just water.  It's a good thing I like cucumbers because call it cucumber overload, but I've been eating and drinking bowls of this vegetable for the past month now.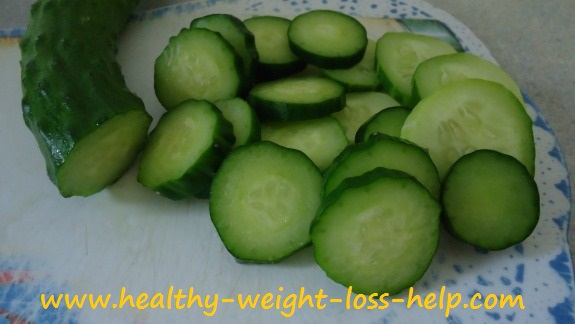 But who's complaining, not me.  Besides being crisp, refreshing, juicy, they are low in calories, rich in nutrients and as I'm starting to see you can use them in hundreds of weight loss drinks and recipes. 
As with all vegetables you get the most benefits when eating them raw.  But I honestly never thought much of this friendly little garden cucumber and certainly didn't realize it offered a whole lot more than water content.
But any way you slice them, they are beneficial, especially if you are slicing them and eating them with the peel. 

What a great summer for growing this vegetable. 
Never would of thought that we would get such a bumper crop offering a ton of cucumber nutrition for salads, sandwiches, drinks, soups and any other recipes we could think of using them in.
There are three main types of cucumbers and they are slicing, pickling and burpless varieties. 
Of course, there are some others and even newer varieties that keep popping up now and then.    
We grew two different varieties this year, the English style (which falls under the slicing variety I believe) and the pickling kind.
Both are delicious, crunchy and not bitter if picked before over maturity occurs.
Love cucumbers when they are younger and smaller in size. 
They are great just washed, cut in half and sprinkled with a bit of sea salt, yum. 
Cucumber Nutrition

So besides water content what do they offer?
Well, according to the USDA, cucumbers with the peel left on contain the following: 
Potassium
Phosphorus
Magnesium
Calcium
Folate
Vitamin K
Vitamin A
Vitamin C
And smaller amounts of other good stuff too.
Tips & Thoughts:
These vegetables offer a food that is filling and super low in calories.
Also, what a great way to get more water into your diet.
The best way to enjoy the benefits of cucumbers is with the peel on because the peel contains lots of the nutrients listed above.
Always wash cucumbers thoroughly not only to remove possible grains of dirt, but to help remove pesticides if you are not sure.
The best part about these vegetables is that you can buy them all year round.    It doesn't have to be summer to enjoy them.

Useful Links:

Return from Cucumber Nutrition to Healthy Foods List
Return to Healthy Weight Loss Help