Cucumber Salad Recipe
Start the New Year Right

This cucumber salad recipe gives you a nice break from all those heavier foods indulged over the holidays.  It's a great dish to start off the New Year as its mouth watering, refreshing, healthy and low in calories, need I go on?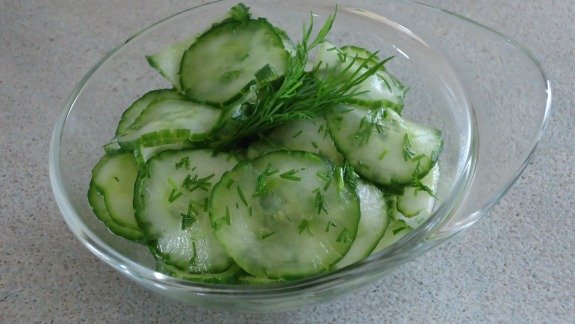 I love this recipe because it has been in my family for more than 3 generations just as many of our homemade soup recipes  are that we love to share with you. 
But that's not the only reason I like this recipe so much, it's also a magnificent weight loss meal that is easily digested and follows all the food combining rules that so many of us love to follow.
This dish is easy to whip together and is made with simple healthy foods that help detox the body.  Yes a dish that is fresh with an abundance of water and also contains some healthy nutrients, minerals, vitamins and fiber.  Totally guilt free and delicious which not only helps with weight loss but makes it a complimentary side dish to practically any meal you have in mind. 

Cucumber Salad Recipe:
Ingredients:

2 good size English cucumbers
2 tablespoons finely chopped fresh dill (save a few sprigs for garnish if desired)
2 cloves fresh garlic
¼ cup water
1/3 cup white vinegar
1 tablespoon salt
2 teaspoons sugar
¼ teaspoon freshly ground pepper
Preparation:

Take the cucumbers and wash well.  Then with a fork apply a little pressure and score the cucumbers lengthwise to give them a fancy design. 
No need to peel the cucumbers (unless the peel is unusually bitter, cut off the tip and do a little taste test to know for sure). 
Now with a mandoline thinly slice the cucumbers and place in a bowl.  Add the salt and mix well then let sit for about ½ an hour.
Now these next few steps are what truly produce the dressing that is unique for this salad.  Take the fresh garlic cloves and force them through a garlic press into a separate bowl.  In that same bowl add the water, vinegar and sugar and whisk all the ingredients together.
Here is the trick: 

Let these ingredients sit for about 15 – 20 minutes so that the liquid can absorb some of the wonderful garlic flavor, then strain this liquid to remove the garlic chunks from it.
Now add this liquid along with the freshly chopped dill and ground pepper to the sliced cucumber and mix well. 
You can serve chilled or room temperature, but the salad must be refrigerated after this.
Garnish:

You can add a fresh sprig of dill to garnish the salad.

Tips:
If you cannot get your hands on English cucumbers then yes you can substitute other varieties of cucumbers, just try to avoid the ones with really big seeds.
Once the cucumber salad recipe is done it is a good idea to do a final taste test.  If needed add a little salt or vinegar to make it taste just the way you like it.
For Garlic Lovers Only: 

If you do not mind eating chunks of garlic in the salad then do not strain the dressing and leave the garlic chunks in it.  But beware there are many people who do not appreciate the garlic chunkies so don't take any chances if you are preparing this dish for dinner guests. 
This recipe makes the best cucumber salad, alright, perhaps I'm going a little over board since its been in my family forever, but it truly is an amazing dish that offers more than just weight loss help and low calories.  
We love our fresh veggies and this dish holds up well in the fridge for a whole week easy, so don't be scared to make a big batch if that helps you save time through the week.
Enjoy
Wishing you health and happiness
Return from Cucumber Salad Recipe to Healthy Salad Recipes

Return to Healthy Weight Loss Help