Diet Cucumber Soup Recipe

Refreshingly Cool in the Heat of the Summer
This diet cucumber soup recipe has so many pluses.  The first plus is that it's the beginning of August,  which means, yes, it's still cucumber season.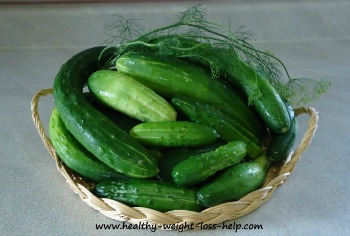 Look at the bountiful harvest (yes from our garden).  The only trick is to keep coming up with different recipes to keep this vegetable exciting for a couple weeks longer.
So now that we have indulged in every type of salad that is made with cucumbers and we are all super hydrated by drinking vast amounts of cucumber water, trying something different sound very appealing.
In all honesty, I've never been a big fan of cold soups, but since most of these ingredients sound so delicious and we have 10 minutes to spare, what the heck, we'll give it a try.  
 Diet Cucumber Soup Recipe
Ingredients:
2 1/2 cup cucumbers, peeled and diced
(Use either seedless cucumbers or cut out the seeds if they are big)
1/2 a cup water
2 cups plain yogurt
1/4 sweet onion (or 2  green onions) diced
2 medium garlic cloves, peeled
2 tsp Dijon mustard
3 tbsp fresh parsley
3 tbsp fresh dill
Salt to taste
Freshly ground pepper to taste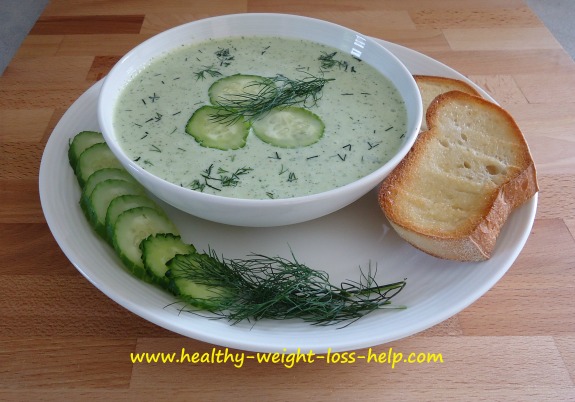 Preparation:
Add all the above listed ingredients into your food processor and blend until smooth.
Refrigerate soup for 4 hours before serving so it's nice and cold.
Makes about 2 - 3 servings.

Garnish:
Garnish soup with some dill and a couple of super thin slices of cucumber (otherwise they will sink). 

Top 8 Reasons This Soup is a Winner:
• Super low in calories, less than 150 calories per serving, amazing for weight loss
• Super inexpensive to make.  Cucumbers are cheap, especially when in season
• Cucumbers offer lots of healthy hydration and nutrition
• Preparation time for this soup is about 10 minutes.  I love that part the best
• Refreshingly cool on those hot and humid summer days
• A cup of this soup works well as an appetizer or snack too
• Great when entertaining as you can prepare it the night before
• Great way to use up any leftover cucumbers you may have in the fridge

Tips:
Once you have blended the ingredients together and if you find the soup too thin, now is the time to blend some more cucumbers into the mixture to thicken it up the way you like it, as it will not get noticeably thicker after being cooled.
It's nice to serve this cucumber soup recipe with a little garlic toast or your favorite crackers.
For those folks who are not a fan of dill, just omit it.  The soup is still so worthwhile to try.
This has now become one of my favorite diet soups.  Low in calories, easy on the pocket book, nutritious, and oh yes, 10 minutes preparation time. 

Wishing you health and happiness
Enjoy
Return from Diet Cucumber Soup Recipe to Mama's Soups
Return to Healthy Weight Loss Help