Easy French Onion Soup
Beef Broth made Decadent
This French onion soup is a delectable dish that will impress your guests. It's quick, easy and very few ingredients are required.

The caramelized onions are what give this recipe its unique and tasty flavor.
Top that with some melted cheese and you have got a winning appetizer to start off the evening events.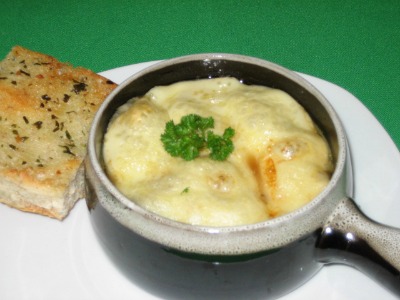 French Onion Soup Recipe
Ingredients:

2 tbsp butter
4 large onions chopped
5 ½ cups beef broth
½ cup dry white wine or dry vermouth
4 slices of toasted French stick
8 thin slices of Gruyere or mozzarella or white cheddar
(If you prefer an alcohol free soup then
use 6 cups of beef broth and no wine)
1 bay leaf
3 sprigs of fresh thyme or ¼ tsp dried thyme
Salt and pepper to taste
Preparation:
In a sauce pan or soup pot melt the butter over medium heat. Add chopped onions and cook for about 30 minutes making sure to turn the onions every couple of minutes or so. This eventually cooks the onions to a nice brown caramelized state.
Add beef stock (and wine), bay leaf and thyme to onions. Turn heat on high and bring ingredients to a boil, reduce heat, cover and simmer for about 20 – 30 minutes to blend the flavors together.
While the soup is simmering toast the French stick. Of course before toasting make sure the bread slices are the right size to fit into the serving dishes.
Remove the bay leaf and thyme, then salt and pepper to taste if needed. The salt factor will depend on how much salt is already in the beef broth you are using.
Now the soup can be ladled into oven proof soup bowls or appropriate serving dishes. Add a slice of toast and cover with 2 pieces of cheese to each serving dish.
Place in oven and broil till cheese is bubbly and slightly brown.
Useful Tips:

Besides the added cheese slices that are placed on top of this soup it is nutritious and not high in calories. You can always reduce the amount of cheese depending on the situation.
Strapped for time? Most supermarkets carry a variety of prepared and ready to go beef broth.
Also, some people don't like bread in their soup. In this case simply serve this French Onion Soup with no toppings and serve with a side of plain or cheesy garlic bread.
If you don't have any kind of bread that will work you can always use croutons instead. The bread is just used so the cheese doesn't sink to the bottom.
Easy Cheesy Good

Enjoy

 Return from French Onion Soup to Broth Recipes

Return to Beef Broth Recipe

Return to Healthy Weight Loss Help Home Page