Yellow Split Pea Soup Recipe
Another Tasty Way to Eat Fiber
This yellow split pea soup recipe is another clever way to enjoy the fiber, protein, vitamins and minerals that are bodies need.

Fiber has always been an important part of any diet to maintain good health as it helps lower cholesterol, aids with regulating blood sugar levels and helps prevent constipation amongst other things.
Besides all that this is a delicious and filling soup recipe that can be enjoyed anytime.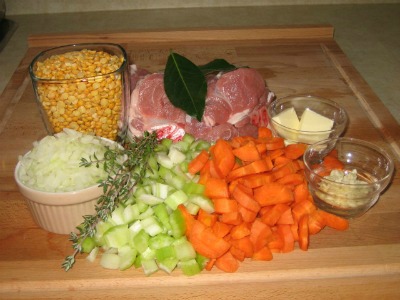 Yellow Split Pea Soup Recipe
Ingredients:
1 lb fresh ham hock
(or smoked, whatever your preference)
1 1/2 cup dried yellow split peas
2 tbsp butter
1 medium onion - chopped
2 cloves garlic - finely chopped
2 celery stalks - sliced
2 medium carrots – sliced
6 cups of water
2 bay leaves
3 sprigs fresh thyme
1 tsp salt
1/4 tsp pepper

Preparation:
Soak the split peas in cold water for about 6 - 8 hours or overnight.
Trim off and discard fatty skin from the ham hock and set the meat aside for later use.
In a soup pot melt butter over medium heat and add onions, garlic, celery, carrots, bay leaves and sauté for 8 – 10 minutes stirring occasionally.
Drain water from split peas and add the peas, thyme, salt and pepper then sauté for an additional 2 - 4 minutes again stirring occasionally to mix ingredients well.
Add water and ham hock and bring ingredients to a boil. Then reduce heat, cover and simmer for 1 ½ to 2 hours while stirring occasionally. Heat can be turned off temporarily as peas should be tender.
Discard the bay leaves and sprigs of thyme if you can find the sneaky little herbs. Now remove the ham hock and set aside until cool enough to handle.
Now you can remove and discard the bone of the ham hock. Cube the meat into edible chunks and add to soup.
Reheat soup once more making sure all ingredients are hot enough to serve.
Makes 4 – 6 servings

Tips:
If desired serve with garlic toast or your favorite bread or dinner rolls.
If you find the soup is too thick, thin with a little water and adjust salt and pepper to taste.
Do you prefer the taste of smoked or not smoked ham hocks?
That is the question? If you prefer the taste of one over the other make sure that is what you use when creating this recipe.
We have made this yellow split pea soup recipe both ways and even though both ways are great we prefer using the smoked ham hocks.
Let the family do a taste test and see which one satisfies the taste buds more.
Regardless which one you choose you know this meal delivers a whole lot of goodness.
Enjoy
Wishing you health and happiness
Return from Yellow Split Pea Soup to Mama's Soups
Return to Healthy Weight Loss Help