Sausage Spinach Soup Recipe
Kids Just Love It
This sausage spinach soup offers a little bit of everything to keep the kids smiling.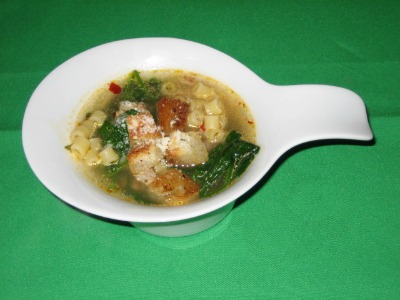 They don't have to know that it's packed full of protein, vitamins, minerals and essential nutrients. 

Ingredients:

1 tbsp olive oil
12 ounces of Italian sausage with casing removed
(this is about 2 average sized sausages)
1 clove garlic
1 small onion chopped
3 cups chicken broth
3 cups water
6 cups baby spinach whole, not chopped
¼ tsp ground black pepper
1 tsp paprika paste or ½ tsp dried red paprika
(no need to worry this paprika is not hot)
2/3 cup Ditali (tubetti) noodles
This pasta named Ditali means thimbles in Italian. It is a nice choice because of its fun tubular shape and firm texture and is great in soups for kids.
Garnish Ingredients:

2 cups of croûtons
2 tbsp Parmesan cheese
Sausage Spinach Soup Preparation:
In a large soup pot over medium high heat, add oil and sausage. Brown the sausage while breaking them up into smaller pieces for about 6-8 minutes. Now remove the sausage from the pot with a slotted spoon and set aside for later.
Now add the onions and garlic into the pot (which should have enough oil left in it from browning the sausage) and sauté for 3-4 minutes or until onions are translucent. (If you feel that there is too much oil before adding the onions than remove some.)
Now return sausage back into the pot along with paprika and black pepper. Stir well and add in all the liquid. Bring ingredients to a boil and add the pasta. Reduce heat to medium and cook for about 8 minutes or until pasta is al dente.
Immediately add spinach, stir well and turn off heat.
If desired garnish with croûtons and sprinkle with Parmesan cheese.
Makes about 6 servings
Tip:
If you do not have any chicken broth handy or in the freezer just substitute it for water and add a couple of chicken bouillon cubes for flavor.
Enjoy

Return from Sausage Spinach Soup to Kids Eating Healthy
Return to Healthy Weight Loss Help