Potato Spinach Soup Recipe
This potato spinach soup is a hearty dish fit for a king that can be made on a shoestring budget.

It is another quality homemade soup that can be made in less than 30 minutes.
Whether you serve it solo or with sandwiches or garlic bread on the side, it is a meal that is bound to please the whole family, especially on those colder days.
Another perk of serving this soup as a meal is the level of nutrition it has to offer.
Yes both potatoes and spinach are healthy, offering a combination of calcium, potassium, fiber, vitamins, minerals and nutrients.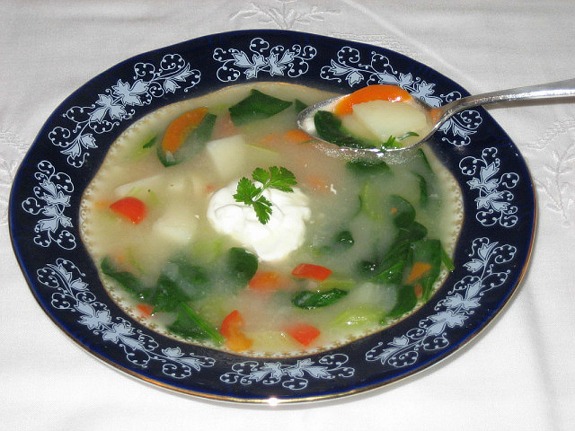 Potato Spinach Soup Recipe
Ingredients:
4 strips of bacon - chopped
1 medium onion - chopped
4 large potatoes - peeled and cubed
2 medium carrots - sliced
2 celery stalks - sliced
1 small red bell pepper – chopped
3 cups of baby spinach – washed whole
2 heaping tablespoons of flour
2-3 bay leaves
1 tbsp fresh parsley – finely chopped
Salt and Pepper to taste
3 cups water
2 cups of your choice of ham, chicken or vegetable broth

Ham broth gives superior results when making potato and legume soups.
Handy Tip:
If you don't have any broth handy use all 5 cups water and add 2 bouillon cubes of your choice for seasoning.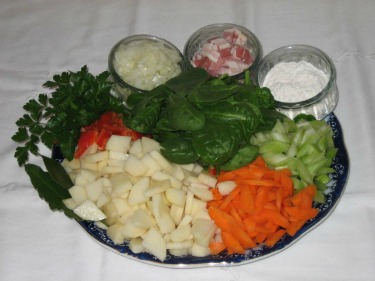 Potato Spinach Soup
Preparation:
In a soup pot cook the chopped bacon over medium heat until crisp and remove bacon bits leaving all the rendered fat behind.
Add chopped onions to the bacon fat and sauté over medium heat until translucent (about 5 minutes).
Add the potatoes, celery, carrots, bell pepper and bay leaves and sauté for another 5 minutes.
Add flour to the vegetables and mix thoroughly, then add all the liquid. Bring contents to a boil, then reduce heat and simmer for about 15 minutes or until vegetables are tender.
Remove pot from heat and add the spinach and parsley, give everything a good stir, cover and let sit for 10 minutes. The baby spinach is so tender that it doesn't need much to cook.
Add salt and pepper to taste.
Makes about 4 servings
Handy tip:

The bacon bits are used only to create extra flavor and we don't add them back into the soup because they become soggy in texture.
But the bacon bits are awesome so we usually save them in the fridge or freezer and use them later in a Caesar salad or perhaps on a baked potato.
Enjoy
Return from Potato Spinach Soup to Mama's Soups
Return to Healthy Weight Loss Help