Mini Meatballs for Kids
Fun for Them, Easy for You
Mini Meatballs for kids is a fun quick meal which offers bite sized balls of tasty protein that are served well with a side of their favorite sliced veggies and dip.

This is definitely another winning recipe that can be made in less than 30 minutes.
Most kids love snacking on finger foods, heck, even most grownups do.
These little bite sized meatballs for kids are a great way to enjoy a serving of protein and by placing their favorite dip and veggies on the side it becomes a fun and nutritious meal.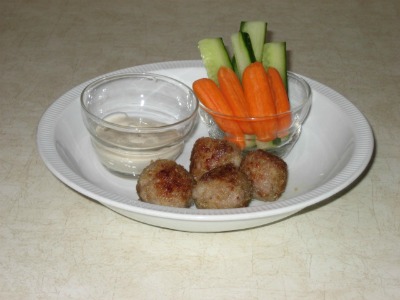 If you have a recipe collection this Mini Meatballs for Kids Recipe could be a great addition in the Fun Kids Meals section.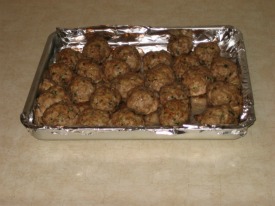 Ingredients:

1 pound lean ground
turkey or chicken
1 small onion chopped
¼ cup grated parmesan cheese
2 tbsp minced fresh parsley
1 egg
¼ tsp salt
¼ tsp pepper
¼ tsp Italian spices
Preparation:

Combine all ingredients into a bowl and mix thoroughly by hand.
Shape the mixture into round balls about 1 tablespoon in size each. Bake on greased baking sheet in oven or toaster oven at 400 F for 20-25 minutes.
Place about 6 meatballs on each serving plate and serve with a side of sliced English cucumbers, carrots, celery or any veggies that you think the little ones would enjoy. Then add a tasty dipping sauce and let the fun begin.
Leftovers Can be Future Life Savers:

Meatballs are freezer friendly. Just place leftover meatballs on a tray and place in freezer.
This helps them from lumping and sticking together. Once frozen you can bag them and store them for future use.
I do love having certain homemade foods that are already cooked handy in the freezer. What a time saver on those rushed days when you still have to prepare a meal.
These meatballs are also very handy if you ever want to make the meatball soup recipe that so many kids (and grownups) love so much.
Just thaw the meatballs and add them to the recipe. Another crowd pleaser when you're strapped for time.
Enjoy
Return from Meatballs for Kids to Kids Eating Healthy
Return to Healthy Weight Loss Help