Diet Kohlrabi Soup
Have You Ever Tried a Bowl?

Not familiar with diet kohlrabi soup?  Not only is this cruciferous vegetable very low in calories, it is a great addition to any weight loss program as it provides lots of nutrition.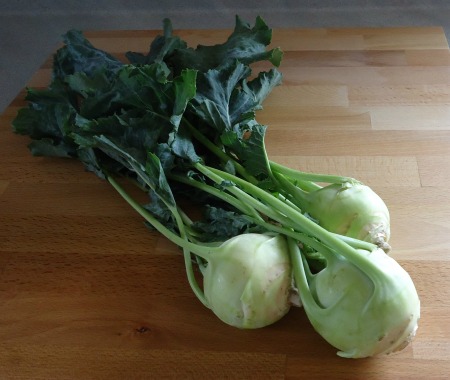 Sounds like Coal Robbie, this vegetable actually comes in both green and purple varieties.  When asked what it tastes like my answer is, "it tastes just like the peeled part of the raw broccoli stem".
How on earth would I know this? 
Well when we were growing up my Mom would never throw the broccoli stem away.  Instead she peeled its outer skin and would slice it up for us kids to eat. 
It's delicious and we loved it without knowing how healthy it was for us (smart Mom as she forgot to tell us that part). 
Kohlrabi is not only great in homemade soups but can be cooked or baked in a variety of ways and is also enjoyed raw on a veggie plate or shredded like coleslaw or added to salads.
This vegetable's name itself is from the German meaning cabbage (kohl) and turnip (rabi) and is very common in much of Europe and parts of India.
The kohlrabi is a cruciferous vegetable and belongs in the same family as cabbage, broccoli, cauliflower, Brussels sprouts, kale and collard greens.
Cruciferous veggies are considered to be a liver loving food that helps detoxify the body and are known for its cancer fighting properties.
Raw kohlrabi also offers the following benefits:
Extremely Low in Calories
Aids digestion
Helps detoxify the body
Good source of Fiber
Helps prevent constipation
Plentiful in Vitamin C, Calcium, potassium, phosphorus, magnesium, iron, many Vitamin B's amongst others nutrients.
Diet Kohlrabi Soup Recipe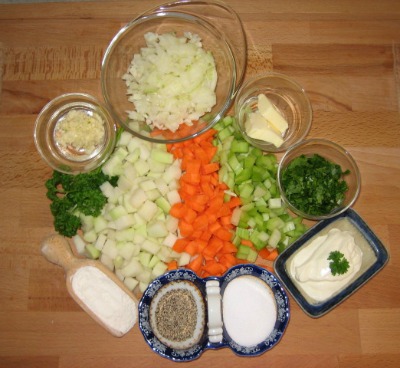 Diet Kohlrabi Soup Ingredients:
2 tbsp. butter (or olive oil if you prefer)
1 onion - chopped
1 clove garlic – finely chopped
3 kohlrabi peeled and diced
1 carrot diced
1 celery stalk diced
2 cups chicken broth (or veggie broth)
2 cups water
2 tbsp. flour
2 tbsp. finely chopped fresh parsley
Salt and pepper to taste
Diet Kohlrabi Soup Preparation:
In soup pot melt butter over medium heat, add onions and sauté about 3-4 minutes or until translucent.  Throw in the garlic and sauté for another 1-2 minutes.
Now add a pinch of salt and pepper and the rest of the vegetables (except the parsley) and sauté for about another 5 minutes mixing the vegetables gently until they are softer and translucent. 
Now add the flour and mix it in with the sautéed vegetables. This is a really quick way of thickening your soup without adding any extra fat.
Now add in the broth, water and spices. Stir well and bring to a boil. Reduce to low heat, cover, and simmer for about 15 minutes or until veggies are tender to your liking.  
Remove from heat and add more spices to taste if desired.
You can check if the vegetables are done by piercing them with a fork. When done, remove from heat. Now stir in the parsley.

This recipe makes 4 (1 cup) servings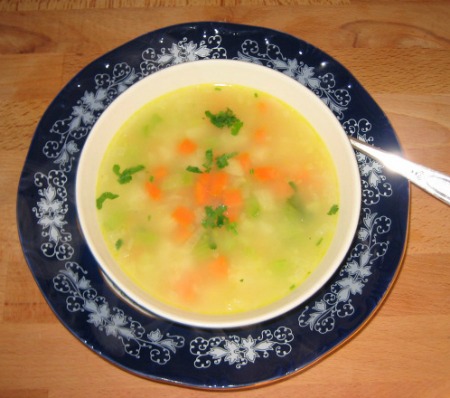 Helpful tips:
Butter gives this soup an extra delicious flavor.
If you do not have any chicken broth handy or in the freezer just substitute it for water and add 2 chicken bouillon cubes for flavor.
For extra body and flavor you can mix in 1 – 2 teaspoons of sour cream per hot serving of soup.   
For Meat Lovers:
Want a fantastic way to use up some leftovers?  Just add some cooked chicken or turkey to the soup.  This is especially handy during the holiday seasons of plenty.
  
Enjoy
Wishing you health and happiness

Return from Diet Kohlrabi Soup to Mama's Soups
Return to Health Weight Loss Help