Diet Cauliflower Soup
The Super Fast, Super Healthy Meal
The beauty of the diet cauliflower soup recipe is that you can make it from scratch in less than 30 minutes.
This weight loss meal is low in fat, low in calories but high in health benefits.
Oh, yes, the cauliflower, another member of the cruciferous family of vegetables, or should we say another liver loving food that helps detoxify the body. Though this vegetable lacks in color it is certainly abundant in vitamins, minerals and nutrients.
This magnificent vegetable is a good source of vitamin C, vitamin K, vitamin B6, vitamin B5 and folate. It also contains potassium, manganese, protein, thiamin, riboflavin, niacin, manganese, phosphorous and is a good source of dietary fiber.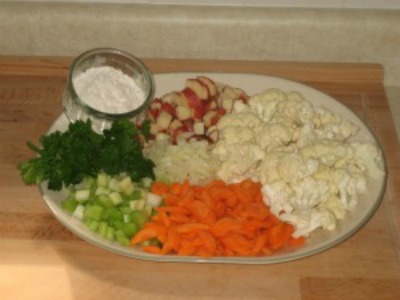 Diet Cauliflower Soup Recipe
Ingredients:

2 cups of cauliflower florets (smaller pieces)
2 carrot sticks chopped
1 celery stalk chopped
2 red potatoes diced
1 small onion finely chopped
2-3 tbsp of finely chopped parsley
1 tbsp olive oil
3 tbsp of flour
2 cups chicken broth
3 cups water
Salt & pepper to taste
1 tsp fresh paprika paste or if not available use ½ teaspoon red paprika powder

Tip:

If you do not have any chicken broth handy or in the freezer just substitute it for water and add 2 chicken bouillon cubes for flavor.

Preparation:

In a soup pot, add the oil and turn the stove on medium heat.
Add all the veggies except the parsley. Sauté for about 5 minutes mixing the vegetables gently until they are softer and translucent.
Now add the flour and mix it in with the sautéed vegetables. This is a really quick way of thickening your soup without adding any extra fat.
Now add in the broth, water and spices. Stir well and bring to a boil. Reduce to low heat, cover, and simmer for about 10 minutes until veggies are tender to your liking.
You can check if the vegetables are done by piercing them with a fork. When done, remove from heat. Now stir in the parsley.
Makes 4 -6 servings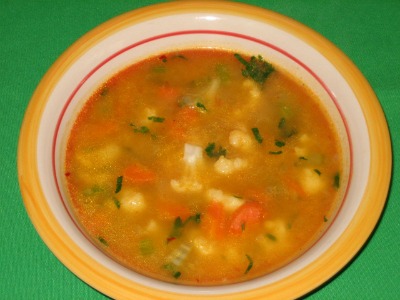 Who thought that homemade soups could be whipped up so quickly?
Learning how to make any kind of vegetable soup from scratch is fantastic because once you have mastered one type of veggie soup you can make any kind.
The concept is the same but you may choose a different combination of vegetables depending on what you have in your fridge or what you bought at your local grocery store or farmers market.
Enjoy and have fun trying different combinations of vegetables for your soups.
Return from Diet Cauliflower Soup to Mama's Soups

Return from Diet Cauliflower Soup to Healthy Weight Loss Help