Diet Carrot Ginger Soup
Packs a Warm and Nutritious Punch
This diet carrot ginger soup recipe may just win the prize on many levels.
It is generally served puree style giving it a velvety smooth texture making it easy to digest; it also has a sweet and spicy flavor that has been known to excite the taste buds of all age groups.
Though many are drawn to the high nutritional value this diet soup has to offer, many more love the warmth it provides the body, making ones cheeks turn rosy on a cold day.
It's almost like the feeling you get after taking a brisk walk that gets your circulation moving.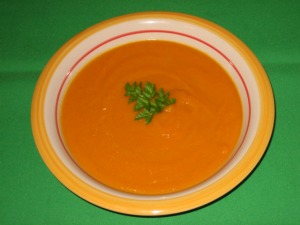 So what are some of the benefits of this diet carrot ginger soup?
This dish is low in sodium, saturated fats and cholesterol making it a good dietary meal, as long as the recipe doesn't call for loads of cream.
This diet soup is also great for digestion, not only because it is pureed, but because it provides ginger. Ginger has been used for centuries to help with nausea, digestive issues and circulation.
Of course carrots are the main ingredient in this recipe and let's face it; carrot nutrition really packs a punch.


Diet Carrot Ginger Soup Recipe
Ingredients:

1 medium onion chopped
1 clove of garlic minced
Splash of olive oil
4 large carrots peeled and thinly sliced
1 medium potato cubed
1 tablespoon freshly grated ginger
2 cups of chicken broth or vegetable broth
1 cup water
Salt and white ground pepper to taste
1 tsp ground cumin
Tip:
If you do not have any chicken broth handy or in the freezer just substitute it for water and add 2 chicken bouillon cubes for flavor.

Preparation:
In a soup pot, add the oil and sauté the onions and garlic until translucent. Add carrots, potatoes, ginger, water and broth, then bring to a boil. Reduce heat to low and simmer for 30 minutes or until vegetables are tender.
Scoop out the soup in batches and puree in a food processor or blender. If you have a hand held immersion blender you can puree the ingredients directly in the pot.
Make sure the soup has cooled enough before blending to avoid the possible spatter of burning hot soup on the skin. Salt and pepper to taste.
For a simple garnish place a few sprigs of parsley on top or serve garnished with chopped green onions and a spoonful of sour cream for something a little fancier, if desired.
Makes 4 - 5 servings
Enjoy
Return from Diet Carrot Ginger Soup to Mama's Soups

Return to Healthy Weight Loss Help