Benefits of Beets
The Power of Red
The benefits of beets are many when it comes to maintaining good health.
In fact this vegetable is on the top of the list when it comes to
liver loving foods.

You may prefer wearing gloves when cleaning them due to their vibrant red color, but this root vegetable offers many possibilities when meal planning.
You can make soup, juices or salads and one interesting attribute they offer is that they are delicious both hot or cold depending on what you're making.

Either way you are welcoming the benefits of beets in every meal you serve that includes them.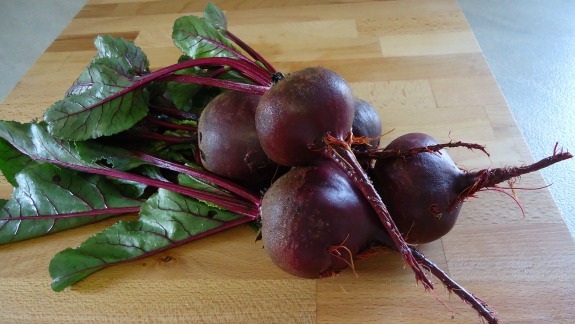 So what benefits does this beautiful red vegetable offer?
Beet roots are one of the best foods you can eat to naturally detoxify the liver. That is because they are rich in vitamin A and phytonutrients which are also called betalains.
Not only are betalains responsible for giving beets their beautiful red color but they have been shown to provide antioxidant, anti-inflammatory, and detoxification support that helps nourishes and strengthen body function.
They are also a good source of potassium and chlorine which helps clean the liver, kidneys and gallbladder improving their performance.
Three commonly used words to describe the health benefits that this vegetables offers us are antibacterial, antioxidant and cleansing.
Let's just say that by eating this vegetable it is a good way to do a little internal housekeeping. In central Europe beet juice was used as a blood builder in the treatment of cancer, illness or fatigue.
One nice thing about this root vegetable is that you can use all of it, including their leafy tops.
Though the leaves may be bitter they are rich in chlorophyll, vitamin A and provide powerful antioxidants. You can always use the leaves when making fresh vegetable juices.
If you would like a delicious drink made from beets check out the recipe called "The Liver Rejuvenator" on the juicing recipes page, it is a great way to help improve liver function.

Beets are also a welcomed food when dieting. We already know they are a healing food that provides a ton of nutrition but they are also filling and low in calories.
Two medium fresh raw beets (2 inches in diameter) contain about 70 calories. Who knew that the simple garden beet has so much to offer?

Return from Benefits of Beets to Healthy Food List

Return to Healthy Weight Loss Help