Trampolining
Fun or Fitness?
Trampolining is not only for the kids. It can be great fun and exercise for us adults too.
In fact many health experts feel it is one of the best ways to achieve aerobic fitness as it can be done with minimal stress, pain or fatigue.
It is no wonder that this form of exercise is regularly used by many athletes.
This type of jumping up and down is called rebounding and the benefits are totally amazing.
It is hard to determine the exact amount of calories you can burn but many studies show that rebounding can burn more calories than even jogging can, which makes it a great weight loss helper.
Of course, as with any exercise, the amount of calories burned depends on the duration and effort of physical activitity.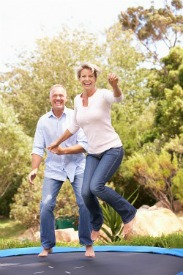 Other benefits include great cardio work out, improved muscle tone, improved flexibility and can strengthen your legs, hips, stomach, thighs and abdomen.
Rebounding can also strengthen every organ in your body by enhancing body fluid circulation (being created by the up and down movement).
This provides every cell in your body to increase oxygen levels which also helps you detoxify.

This is all due to the force of gravity created by the up and down motion and improved breathing. There is nothing like deep breathing to cleanse the body.
The benefits are great and it is no coincidence that you see more and more of them in backyards today.
Decided to Jump In?
You will need to do a little homework before buying one because there are several types to choose from.
Things to consider will be size, shape, warranty and what age group will be using the equipment.
Useful Link:
The Bellicon Rebounder is considered to be one of the best in the world.  Read my review here and find out if it's the right choice for you. 
Once you learn how to use one it can be great family fun on top of being a great workout.
Happy Jumping


Return from Trampolining to Exercise Choices

Return to Healthy Weight Loss Help Home Page