Welcome to HWLH News Letter


July 2021 - #092 - The Ultimate Healthy Breakfast Smoothie
Hi Everyone and Happy July
I want to share with you a very simple, but very healthy, breakfast smoothie recipe to get your day started with lots of energy.
I was introduced to this recipe by my brother who was visiting us last month. He's eating much healthier these days and has lost around 20 pounds in the last two months. He hasn't looked so good in years.
So I started drinking the same smoothie in the morning, not for weight loss, but because I found it provides two very important benefits for me.
1st Benefit:
The first one is the most important benefit and we will call it "The Amazing Bathroom Benefits".
If you're having some trouble with irregularity, constipation and occasionally feeling bloated, this breakfast works wonders.
After drinking this steady for a few mornings in a row, the digestive system certainly says thank you.
2nd Benefit:
The second benefit is simply how healthy the ingredients are and how much energy it provides the body for a good part of the morning and early afternoon.
So What's In It?
1 Ripe Banana (fresh or frozen)
½ - 1 cup fresh or frozen Spinach
1 tbsp. freshly ground flax seed
1 tbsp. hemp harts
2 tsp chia seeds
2 fresh dates with the pits removed
Top up with coconut water to the desired thickness you like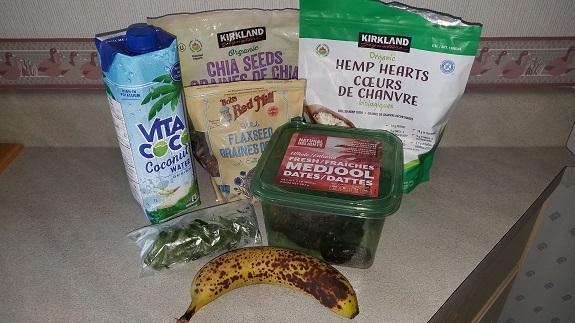 Put all ingredients in a blender and blend well.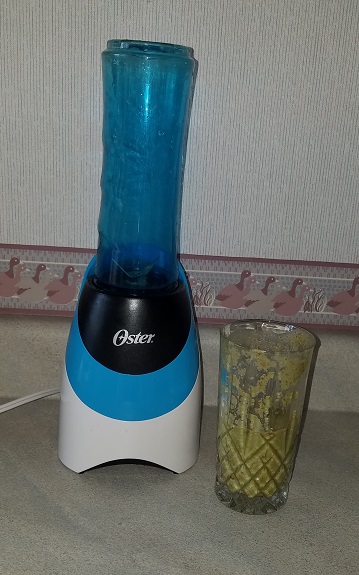 Of course no smoothie recipe is written in stone so you can also add other fruits such as papaya, you can increase or decrease any or all of the ingredients to suit your needs.
This smoothie is usually on the thick side as you can see by the picture below and if you don't like thick just add more coconut water.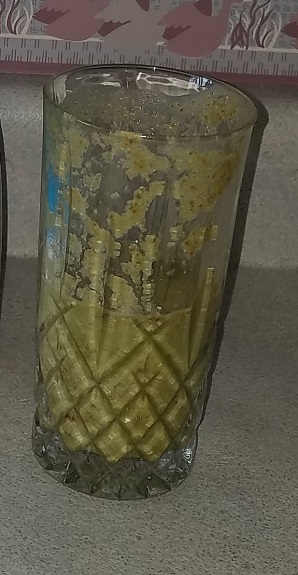 Helpful Tips:
If you are making this recipe for one person than a single serve blender can be very convenient. A large blender is great for multiple servings.
We use a little coffee grinder to grind the fresh flax seed. I just put a tbsp. of flax seed in my little coffee grinder and grind it for a few seconds and it's done.
I usually buy a big bag of spinach and divide it up into little snack size Ziploc bags which hold around ¾ - 1 cup of spinach and put these in the freezer.
This is such a handy way to have the right amount of fresh spinach around any time you want to make a smoothie.
In the picture below you can see the handy bag of ready to go spinach.
All of the ingredients in this smoothie offer a plethora of health benefits, to the extent that we would need pages upon pages to list them all.
In a tiny nutshell, just a few of the benefits these ingredients can provide are:
Provides antioxidants to help cleanse the body and the liver
Helps manage blood sugars
Helps with constipation, irregularity and bloating
Helps manage cholesterol and high blood pressure
Improves heart health
Improves bone strength, muscle strength and nervous system function
May help relieve muscle cramping
Good for healthy skin, hair, eyes, bones and teeth
Helps strengthen immune system
Great source of energy
---
So for those of you who haven't tried a smoothie for breakfast before, I hope you give this one a try.
Wishing you all a happy, healthy and safe July.
Take care of yourselves and each other
Until next time….

Your Opinion Counts:

If you have an opinion or would like to share a story with us we would love to hear from you.

Use our Contact Us page - or our Weight Loss News page (Your Story Counts).

Wishing you health and happiness
Until next time
Catherine :)