Welcome to HWLH News Letter


September 2021 - #094 - Healthiest Homemade Tomato Juice
Hi Folks and Welcome to our September Newsletter
This issue is especially for tomato lovers.
For anyone wanting to make the healthiest homemade tomato juice then this simple recipe is for you. This method keeps all the nutrition in your juice because there is no cooking involved.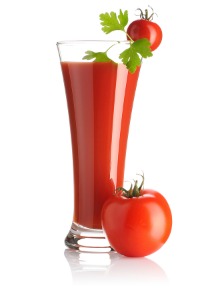 Our garden isn't really that big, but every year we have enough extra tomatoes to make a little homemade juice to put away in the freezer to help brighten up the winter months that will soon be upon us.
We didn't have the greatest crop this year because we got far too much rain, which ruined many of the plants, but we still managed to make a few bottles of juice.
Why is this method of juicing the healthiest?
Well we know the closer any fruit or vegetable is to it's natural state, that is when it offers us the most nutrition.
That's why summer is so great when we get a chance to eat stuff like cantaloupe, cherry's, peaches, cucumbers and tomatoes all fresh off the vine, tree or bush.
From the local farmers market, corner stands and local gardens, summer is a great time to enjoy many fruits and vegetables that are so delicious and fabulous for healthy eating.
Okay, so back to my point of nutrition. Well, when we buy a bottle of any kind of fruit or vegetable juice from the grocery store it has been processed to an extensive degree.
Not to say that it's not healthy, because it is. It is just NOT AS healthy because it has been processed, altered and heated up to incredibly high temperatures which does diminish some of its nutritional value.
Many people love to make their own homemade tomato juice and they too like to boil it.
I decided years ago that I would try to just wash, cut and squeeze the juice but without the boiling process and I'm glad I did.
I have been drinking tomato juice like that ever since and have never looked back. The taste is so fresh that it literally taste like you have just squeezed that tomato right then and there, even if you're drinking it in the winter months.
That's because once you squeeze it, you just put it in bottles and freeze it right away.
What a treat it is to have a nice homemade glass of tomato juice with perhaps a clubhouse sandwich at brunch or perhaps with a roast beef dinner in the middle of winter time.
Either way it brings a little taste of summer time to each meal and it's a great way to get a serving of vegetables too.
Tools of the Trade
I do have one important tool to do this job which is technically called a food mill but I just call it a manual tomato press.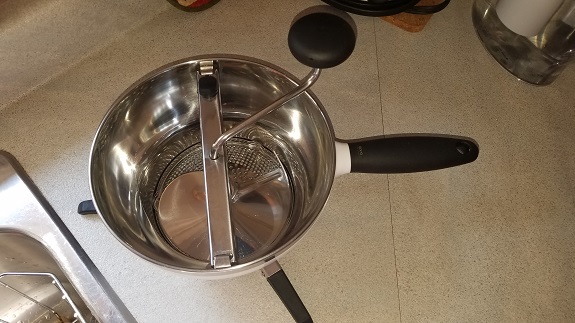 Now when I purchased mine years ago it was around $90, but I've seen this same one for a lot less now.
It does more than just squeeze the juice out of tomatoes, it also can purée peas, carrots, squash to make baby food and it's also good for homemade gnocchi, mashed potatoes and applesauce.
This one is made out of stainless steel which is durable and easy to keep clean. It also has a soft grip handle that is easy to turn.
I think mine is called "Cuisinart Food Mill" and comes with three discs, one fine, one medium and one coarse.
If you do purchase one you will definitely want the stainless steel one.
Steps for Making the Juice
Collect all the tomatoes that are ripe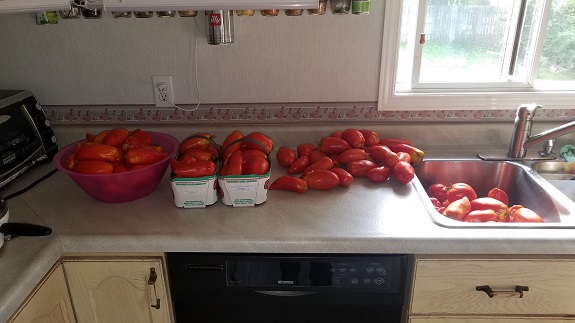 Wash the tomatoes real good with cool water and cut out any bad or spoiled areas that you can see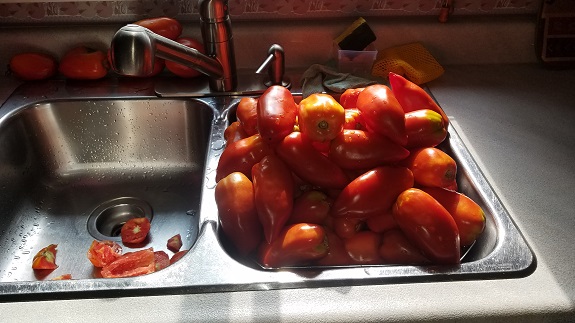 It is best to cut out and discard that hard stem area and then cut the the tomatoes into small cubes.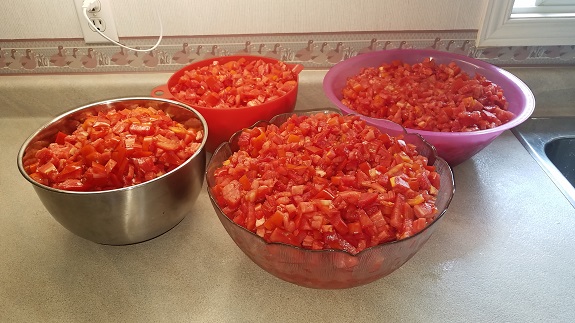 Place the medium size disc plate into your food mill and start pressing and juicing your tomatoes.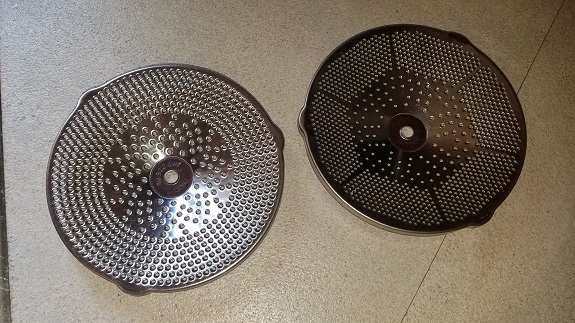 Once you have pressed all the tomatoes through the medium course disc then replace with the fine course disc and repeat the process.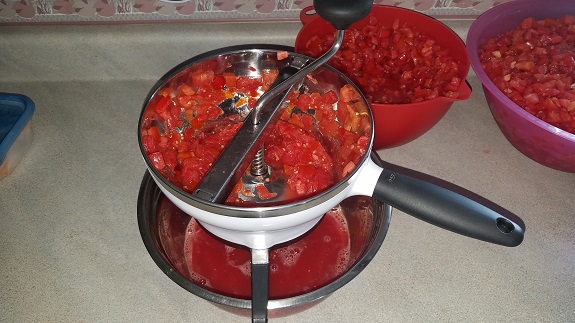 I find you need the fine course disc so that the tomato juice isn't too thick.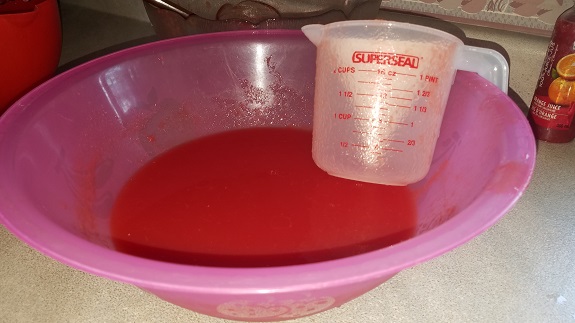 Now you can fill up your clean plastic juice bottles with tomato juice. Don't fill them right to the top though if you are planning to freeze them as they will expand a little bit and you don't want them cracking the plastic.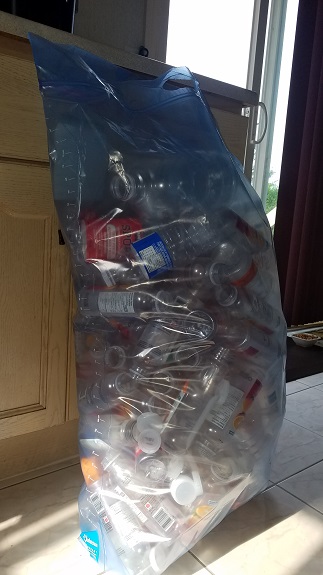 We usually wash and save many plastic bottles through the year just for our tomato juice in the summer.
Make sure you rewash and clean the plastic bottles thoroughly before putting the tomato juice into them.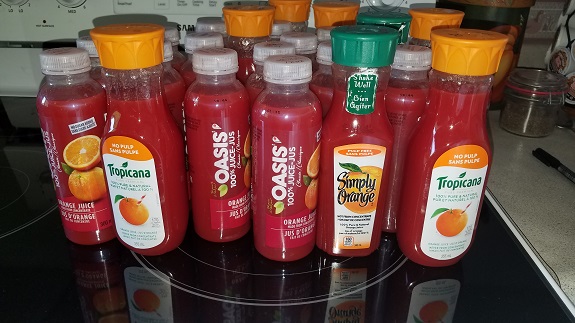 Now all you have to do is freeze them and enjoy them anytime later. What a great way to get a serving of vegetables in the middle of winter.
So for all you tomato lovers, looking for a little sunshine in a glass during the winter months, I hope you give this a try.
Take care of yourselves and each other
---
Wishing you health and happiness always.
Until next time.
---
Your Opinion Counts:

If you have an opinion or would like to share a story with us we would love to hear from you.

Use our Contact Us page - or our Weight Loss News page (Your Story Counts).

Wishing you health and happiness
Until next time
Catherine :)