Welcome to HWLH News Letter


November Issue # 024 - Best Fitness Trackers - What features are you looking for?


Fitness trackers (also known as sports watches) are becoming extremely popular.

If you want to move more, sleep better, and improve your overall health, fitness trackers can help.

They can also make a great gift for someone you care about on any holiday or special occasion.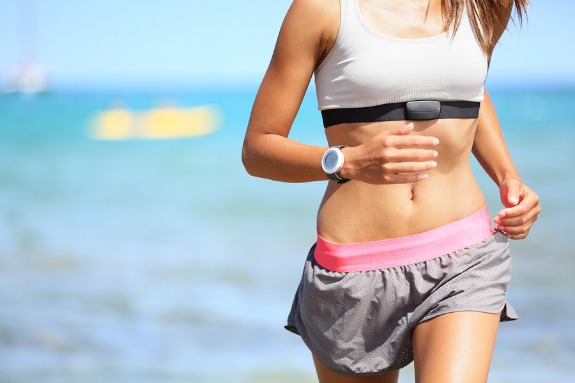 We have collected information on the most popular fitness trackers and placed it in an easy to read table for your review and for your convenience.


This will hopefully make selecting one much easier.
What can fitness trackers do?

Depending on the make, model and cost they are able to offer quite an abundance of information.
We created this chart as a quick way to start off: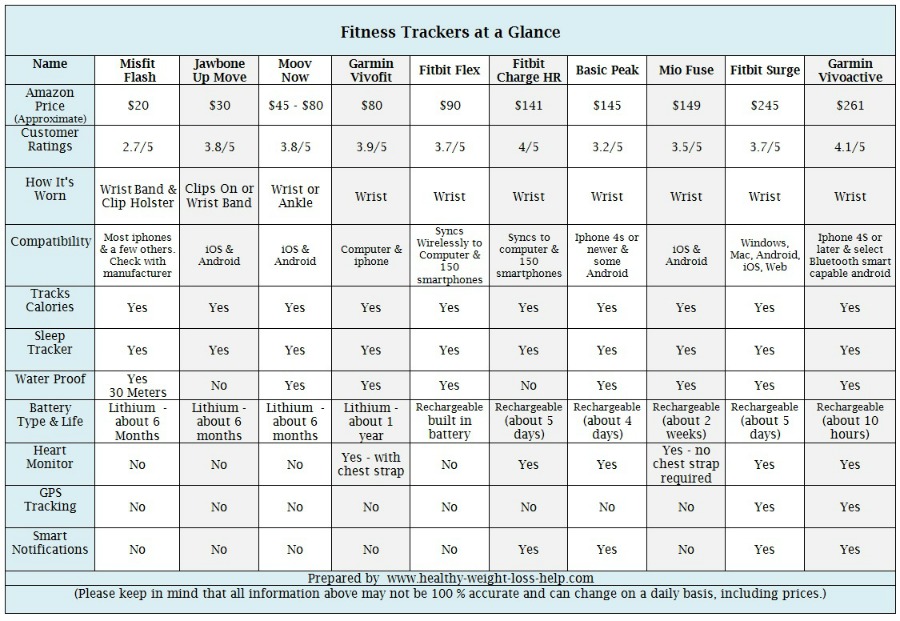 MisFit Flash - Around $20
Measures activity and sleep
Sync with your Smartphone
Comes in a variety of colors
Helps motivate you to reach your goals
Tracks walking, running, cycling, tennis, yoga, dancing along with other sports
Misfit app takes all that data and turns it into easy to read charts to see your progress
Tracks steps, calories, distance
Soft touch plastic
Durable and water resistant
Battery never requires charging and last up to 6 months
Jawbone Up Move - Around $30
Is black with a black clip
Voted the best Budget fitness tracker
Helps motivate you to get fit and lose weight
Tracks exercise, calories burned, monitors sleep
Compatible with iOS and Android
Is not waterproof
Moov Now - Around $45 - $80
The Moov Now tracker helps track walking, running, cycling, swimming and daily activity
It also tracks sleeping, has real time coaching has a vocal feedback (like a coach)
Offers 12 guided workouts
Works with iOS and Android
Battery is not rechargeable and lasts about 6 months
Fitbit Flex - Around $90
Has no screen, so you obtain all the information from it on your phone or computer
Consumers say it is easy to use and helps motivate them
Tracks your daily exercise
Encourages a healthier lifestyle
Calculates how many calories you have burned
Calculates how many steps you have taken
Is said to be quite accurate
User friendly and comfortable
Fitbit Charge HR - Around $141
Continuously Tracks heart rate
Automatic Sleep Tracking
Comfortable, made of soft black rubber
But Limited notifications
Screen doesn't stay on
Basis Peak - Around $145
Automatically detects what you are doing whether it is sleeping, walking, running or swimming
Water resistant
Helps motivate you
Monitors your heart rate
Does not have GPS capabilities
At this time cannot notify you of incoming calls but they are working on a software upgrade
Fitbit Surge - Around $245
Offers GPS Tracking
Heart rate monitor
Tracks all day activities such as steps, walking, distance, calories burned
Monitors your sleep and has silent alarm available
Shows you incoming calls and texts on a touch screen display
Syncs all your stats wirelessly to your computer and with other smart phones
Garmin Vivoactive - Around $261
Garmin Vivoactive - Around $261 with heart rate monitor (less expensive version can be purchased without the heart rate monitor)
Offers thin display with high resolution and color screen.
You can also read the screen in the sunlight
Has built in GPS
Tracks running, biking, swimming, golfing and other activities.
Smartphone friendly, as it will alert you of incoming calls, texts and emails and more.
Battery charge lasts up to 3 weeks without GPS or lasts about 10 hours with GPS function on
Conclusion:
There are many fitness trackers to choose from and the best way to choose the right one is by doing a fair amount of research before making a purchase.


One great way of getting more information is by going through the customer reviews on Amazon. It takes some time to filter through all the reviews but they offer a plethora of information.


Of course we know that fitness trackers are still relatively new to the market and still have plenty of room for improvement.


Manufacturers are doing a great job with improving their products with higher accuracy and more functions on a daily basis. Who knows what the future will bring.


For now these trackers offer a wide variety of choice and price to get you into the swing of things.

As always wishing you health and happiness
Till next time.


Catherine :)
---