Welcome to HWLH News Letter


January 2021 - #086 - Easy-To-Make Diet Soup Recipes for Weight Loss
Hello Everyone
Well we made it to 2021 and my hopes are big that this year will be kinder to us all.
I don't know about you, but I've had enough of 2020 to last me a lifetime and I believe things will get better, perhaps not instantly, but I hope soon.
So then I was thinking of what would be an easy and non-stressful lifestyle change that would help achieve weight loss and the answer that came to me was SOUP.
For me and my family our go to solution for weight loss every time, has been, and always will be soup.
We've got lots of good recipes to share but first here are some of the reasons that soup is the perfect weight loss tool.
Why Soup for Weight Loss?
Soups have to be one of my favorite meals.
They are easy to make, easy to digest, low in calories, inexpensive to make, are filled with fiber, nutrients, vitamins and are high in water content.
Not only that but they help maintain health and prevent disease.
Back in the good old days, soup was practically a daily staple for most families. The days when there wasn't a fast food joint on every corner when people took the time to eat healthier meals and obesity wasn't wide spread.
Folks would use fresh vegetables, legumes, meats or a combination of those to make a bountiful pot of delicious tasting soup for the whole family.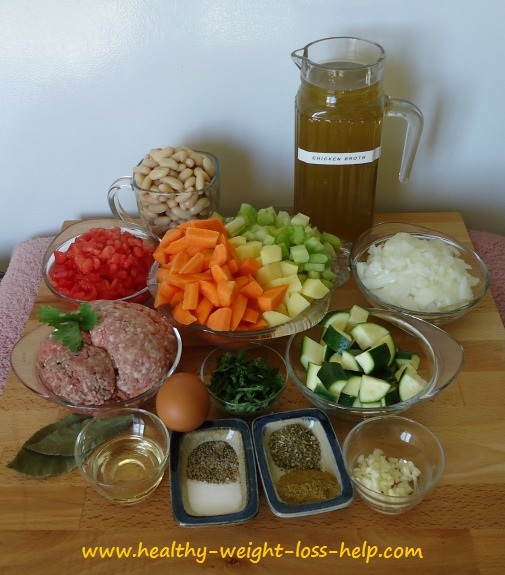 Above: Ingredients for Albondigas Soup Recipe

The Magic of Homemade Soups

Making your own soup is a great way to save money and have some creative fun in the kitchen.

Imagine creating your own delicious soup just by using up leftover meats and veggies in your fridge.

You can even add pasta, sausage or mini meatballs to your soups to spruce them up.

Just when you thought there was nothing for dinner, presto, you created a hearty and quick meal for your family.

This is always helpful if you haven't had time to hit the grocery store or if your budget is getting low.

How Eating Soup for Weight Loss Works

Every time you choose to eat a bowl of soup instead of a heavier or less nutritious meal you are eating fewer calories and eating more vegetables, vitamins, minerals and liquid.

It is that simple.

If you want to speed up your weight loss with soup, this is what I suggest:

Eat a breakfast that won't leave you hungry

Enjoy your soup meal for lunch

End the day with a healthy yet satisfying meal

Don't snack in-between meals or after dinner

Drink zero calorie beverages or best of all stick with water

Want to lose weight even faster?

Then for a time being I suggest making 2 of your 3 daily meals soup.

Yes, the more soup the better for weight loss.

It also keeps the body hydrated, helps with constipation, eases digestion and provides the body with extra energy because your stomach doesn't have to work up a ton of food.

And let's not forget the nutrition it provides us.

Suggestions:

Have you ever tried a bowl of soup for breakfast, it is a great way to start the day, especially in the colder months.

If you know a bowl of soup isn't going to be enough for a meal then just add a little garlic toast, crackers or sandwich of choice on the side which will help fill the gap.

BENEFITS:

Since soups are high in fiber and easy to digest they can help relieve constipation, poor digestion and troubles with stomach acid.

Soups are also a great way to maintain your healthy body weight.

Eating any kind of soups on a regular basis provide a lot of nutrition. As mentioned above, soups provide much needed liquid, vitamins, minerals and fiber to our daily lives.

Here below is the link to all our soup recipes.
I hope you give many of them a try this New Year and make them part of your daily meals.
What could make a healthy soup even healthier?
If you have a little extra time then make some homemade broth that you can add to your soups.
Then you can substitute homemade broth instead of water with bouillon which makes for an even healthier meal.
True broths are rich in calcium, magnesium, potassium, phosphorus, collagen, gelatin, glucosamine, chondroitin, trace minerals and much more.
Broth is beneficial for joint health, digestive problems, immune system, cold and flu, hair and nail strength and the list goes on.
Bone broth in particular is an incredible tonic for bone health and the prevention of osteoporosis.
There are several broth recipes you can choose in the link below to help make your soups healthier and even more delicious.
Homemade Broth Recipes
Happy New Year All
Wishing You Health and Happiness Now and Always
---
Your Opinion Counts:

If you have an opinion or would like to share a story with us we would love to hear from you.

Use our Contact Us page - or our Weight Loss News page (Your Story Counts).

Wishing you health and happiness
Until next time
Catherine :)